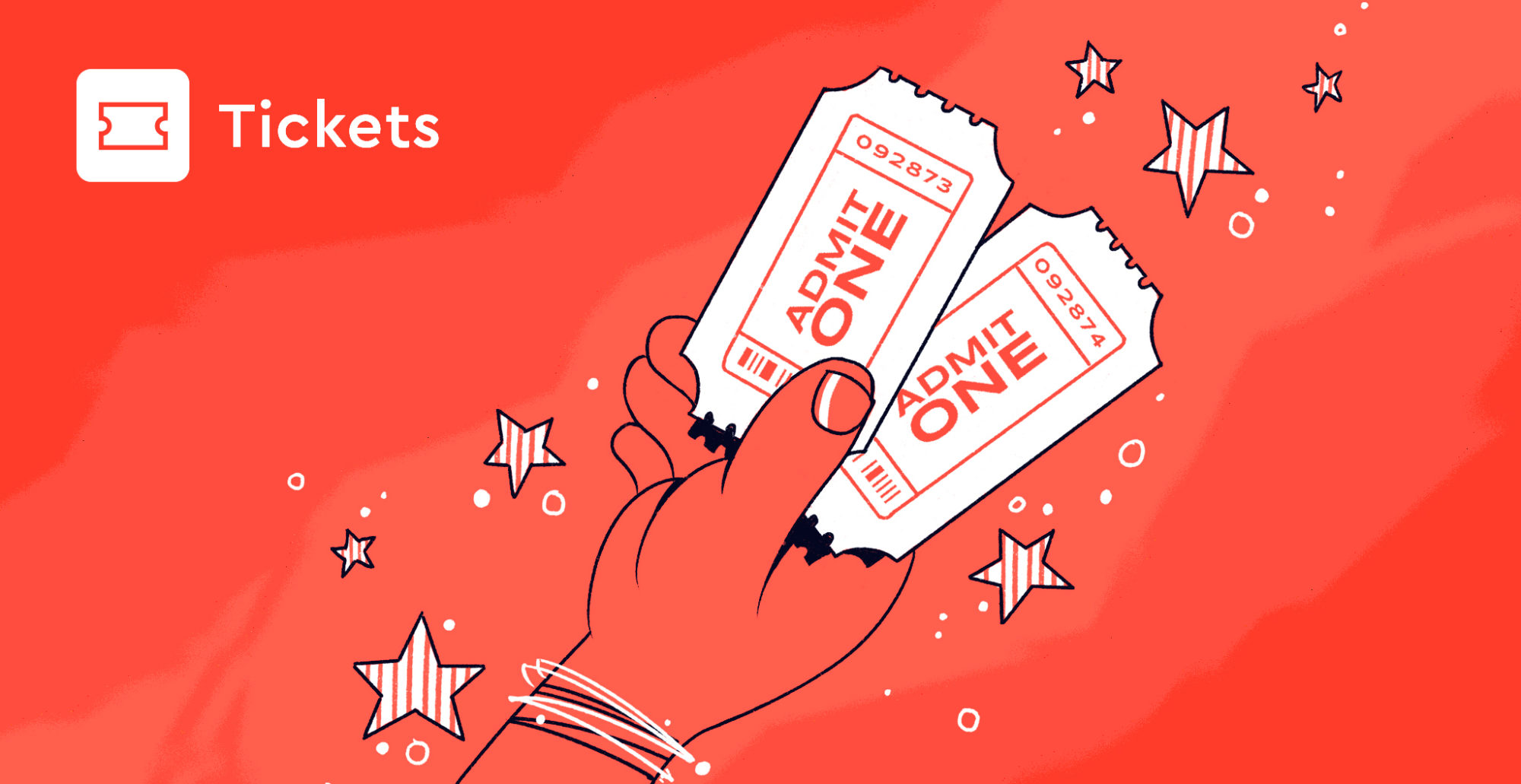 If you run events, workshops, or any kind of experience that requires a ticket then we think you should check out our latest product, the originally named; Giftpro Tickets.
The idea for Giftpro Tickets actually came from many a discussion with our fantastic clients, who, like us, are always looking for ways to improve the customer experience and further streamline operations.
The primary complaint with existing systems was the (lack of) ability to customise the buying experience, but there were numerous other problems that we knew we could solve – we just had to step into your shoes.
So, armed with a checklist of pinch points we got to work, rolled out the beta version, tested the heck out of it, and after a few months of tweaks we're delighted to share the final product with you…
Meet Giftpro Tickets…

At the core of Giftpro Tickets is a customisable online store which allows you to present and sell event tickets directly to your customers. Like our gift voucher product, it's your own online shop, not a 3rd party marketplace.
You're able to manage everything via a cloud-based admin area, which, conveniently is the same admin area you manage your vouchers from, so if you're a client already you'll have one less system to log into each day.
Everything we've learnt about usability, conversion rate optimisation, eCommerce and hospitality has been distilled into Giftpro Tickets so we're really excited to officially release it…
Why is it different?
It supports your mission to drive more direct business
Many of our clients previously relied on 'marketplace' style platforms to manage and sell tickets to their events, which is fine if you rely on a 3rd party audience to get sales.
The thing is, most of our clients have their own loyal customers and the big compromise is having to put your events right next to your competitors on a platform where you don't control the buying experience.
On top of this, marketplaces generally have the right to keep your customer data and market your competitors' events to your customers.
With Giftpro Tickets you own everything. The store is yours, the data is yours and from your customers' perspective, they're buying directly from you.
It makes the buying experience yours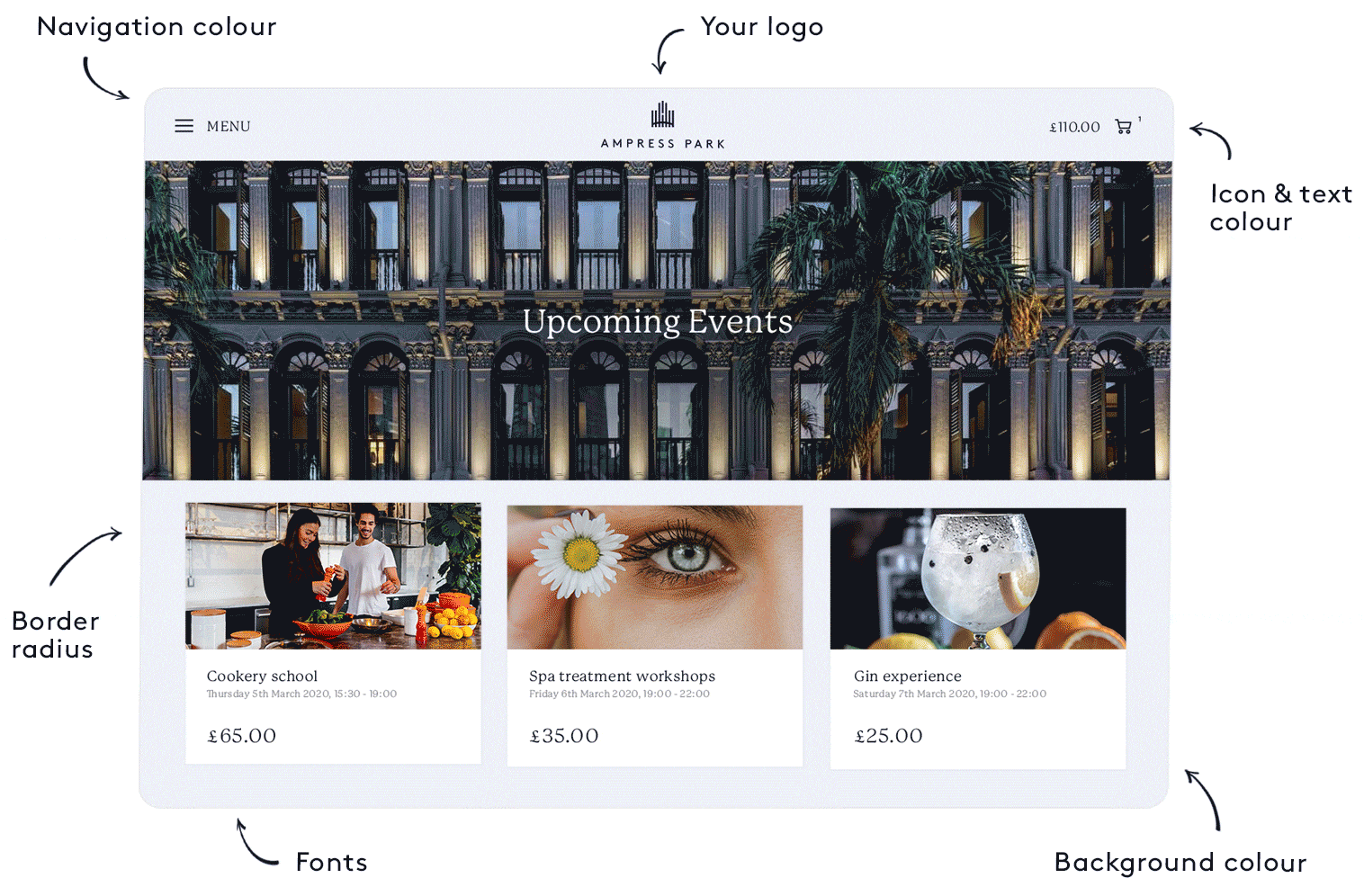 As we touched on above, most event management systems don't give you much flexibility over the design of your store and it's a shame to compromise when you've worked so hard building a brand image that people recognise and love.
Giftpro Tickets works differently – we've built in all of the customisation tech' from our original voucher product and actively work with our clients to make your ticket buying experience a beautiful, seamless extension of your main website.
If you love your brand you'll love the creative flexibility that Giftpro Tickets offers.
It's tailored to hospitality professionals like you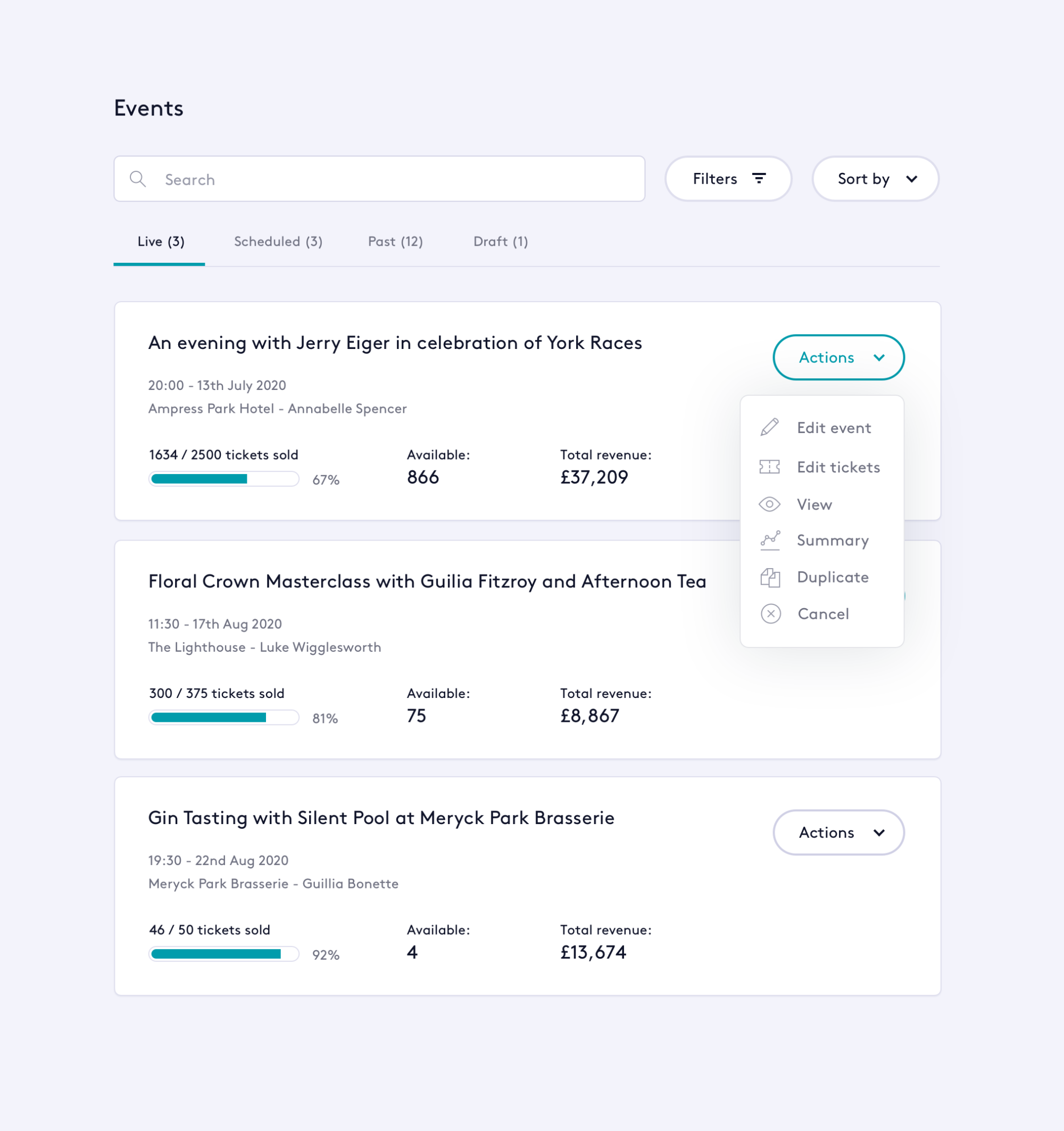 Some software companies believe that more features = a better product, but in the 24/7 world of hospitality, it's of equal importance to focus on making products intuitive and efficient for staff to use.
So by working closely with our clients, we've designed an event management system that's perfectly suited to the fast-paced, multi-tasking world of hospitality. You get all the features you'd expect, but everything takes less time, with fewer clicks.
For example, you can easily see how a large portfolio of events is performing at a glance, action key tasks without having to navigate your way through layers of admin screens and (like our voucher product) your staff should find the UI so intuitive you'll have very little training to do.
We'll send your tickets by post (if you want)
By utilising our in-house fulfilment service we're able to deliver physical, beautifully packaged tickets which is perfect for clients who run intimate VIP events or those looking to improve the overall sentiment towards their brand (or event)
Like our voucher product, email delivery is free and our design team will help you design your tickets to complement your other brand assets – creative flexibility runs through the entire product so if you're looking to do something special just ask!
Like everything we do, Giftpro Tickets is evolving fast
Giftpro Tickets already offers all of the tools you'd need to run relatively large scale events and with features like ticket types, quantity limits, basket customisation, customisable 'urgency' pop-ups and scheduling we think you'll be surprised at how much power we've packed into the first version.
Everything we build never stops getting better and much like our voucher product you'll have access to all future features for no additional cost.
Ready to learn more about Giftpro Tickets?
Learn a bit more about Giftpro Tickets, discover some of the key features and read a few common questions on the Giftpro Tickets product page here
If you'd like to see Giftpro Tickets in action, we'd recommend a 1-1 demo with one of our friendly product gurus. You can book a demo at your convenience here
If you have a question you can enquire online, call us on 02381 290555 or email info@giftpro.co.uk. Alternatively, click on the little smiley chat icon to chat to us straight away (during office hours)