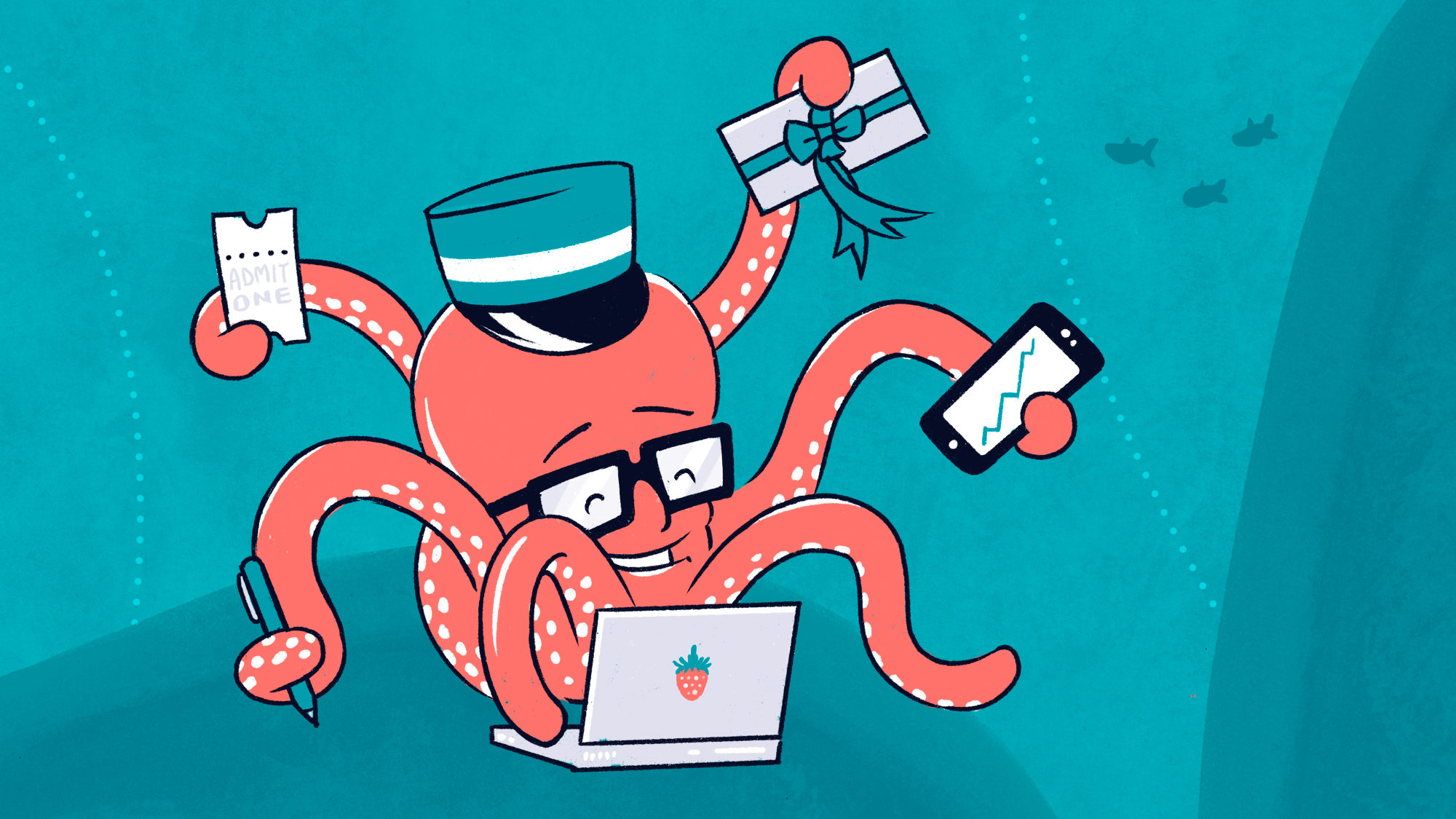 Throughout our re-brand process, we decided that one of our most important goals was to give you more insight into the things we're building. Big or small, finished or not, we want you to know about it first.
So this month, we've got a two-part update.
Firstly, we're revealing the status of two brand new revenue-boosting products which have secretly been in beta (whoop!)
Secondly, we'll be getting you up to speed on a number of small, but powerful features that might have slipped under your radar.
Let's get to it…
The big news
???? Sell (almost) anything with Giftpro Retail
Like most of our clients, you're probably well aware of your own brand power. It's the feeling your customers get when they visit and if they could keep a bit of that feeling after they leave, they probably would.
Well, now they can.
With Giftpro Retail you can sell pretty much anything you create or sell in-house. For example, spa products, books, hampers, branded merch, even the high-ticket stuff from your gift shop – if it's physical, it's perfect for Giftpro Retail.
We have a few clients kindly testing the technology, and we're still building out different fulfilment methods to handle varying product types, but you can see our beta version being used by The PIG to sell their beautiful new book here.

We'll keep you right up to speed with product progress, but if you're interested in driving some extra 24/7 revenue soon just hit the button below…
???? Giftpro Tickets will soon be out of beta
There are tons of event ticketing products on the market so why on earth would we build another one?
Eventbrite and marketplace-style systems list your events right next to your competitors – not ideal.
They also own your data and can promote your competition to your own customers.
Most event management systems offer very little design flexibility, so to solve this we're applying our customisation functionality and conversion-boosting UX principles from our voucher system.
Our clients have realised that they already have a loyal audience to market to, so a solution that allows them to maximise their direct revenue makes total sense.
Managing tickets, vouchers and products from one admin area is a no brainer.
Like our retail product, we've had a few clients testing our Tickets beta and the feedback has been extremely positive. You can see The Vineyard's beta event store in action here.
The complete version of our Tickets product is due for launch mid-October and will include all of the features you'd expect from a fully-fledged system, so if you're interested in selling tickets direct, give us a shout…
The small news
???? Giftpro speaks your language
Whether you sell gift vouchers, chèques cadeaux or 礼券, you can now launch an online store in a language other than just English.
This functionality ties in nicely with our multi-currency feature, and when combined, you have all the tools you need for world domination… kinda.
???? A small upgrade to your SEO tools
Our agency friends are always looking for ways to help their clients climb the SERPS* so we've made a simple addition to our gift voucher stores that allows you to adjust your metadata for each of your category pages (including the homepage). Simply go to your category editor, select a category and you'll see the additional SEO panel.
*SERPS = Search Engine Results Pages. We built some other useful SEO tools in January, you can read about those here.
???? Find stuff way faster with upgraded search
When one of your customers has a question or an issue it's essential that your team can find their order as quickly as possible, so we've re-built search using a snazzy technique called 'sharding'.
Now you'll not only get your results faster (even if you have a ma-hoos-ive database of orders) but you'll also be able to use the last four digits of a customer's card to pass them through security and find their order at the same time.
???? Integrate Giftpro with Zoho
Zoho, the do-it-all software suite now integrates with Giftpro so if you need to send your sales data to your Zoho CRM just let us know and we'll activate the hook up for you.
???? Other little updates to help you out…
We added a little button that allows you to quickly copy the voucher code from an order summary page to your clipboard.
Giftpro Protect has been updated to automatically blacklist known fraudsters and you'll benefit from the aggregated data of our entire client base.
If you use categories on your store, you can now change the order of them in the dropdown simply by dragging them up and down in the admin area.
You can now easily preview how your gift vouchers will look as you're creating them in the admin area, just hit the preview button in the 'Actions' menu.
We've added sales source tracking so now you can tag your URLs and Giftpro will split them into separate channels for you.
As always, thanks for taking the time to read our latest product announcement. If you have any questions or ideas we'd love to hear them, so please don't hesitate to get in touch.
Need a hand with anything?
Talk to our support team via live chat or call us on 02381 290555 (Mon – Thur: 9am – 5.30pm, Fri: 9am – 4.30pm). Alternatively, you can contact us using support@giftpro.co.uk